moms-life
50 Kata-Kata Bahasa Inggris Menyentuh Hati, Cocok untuk Caption Instagram
Senin, 19 Sep 2022 13:00 WIB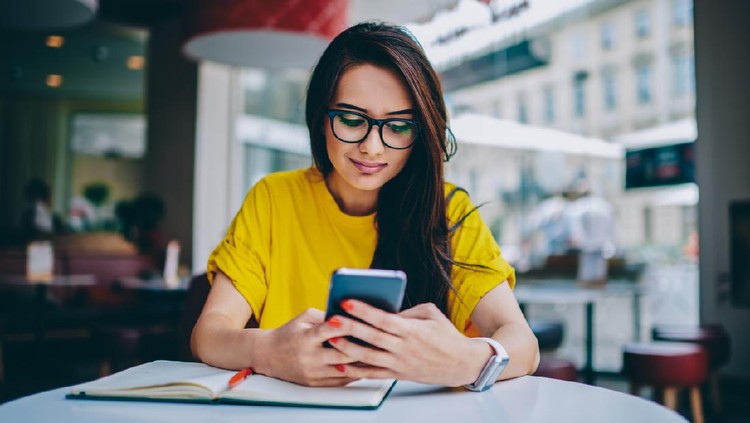 50 Kata-Kata Bahasa Inggris Menyentuh Hati, Cocok untuk Caption di Media Sosial/Foto: Getty Images/iStockphoto/GaudiLab
Jakarta
-
Kata-kata bijak tidak hanya untuk diri sendiri, Bunda bisa membagikannya juga kepada orang lain. Banyak kata-kata dalam bahasa Inggris menyentuh hati yang bisa Bunda bagikan kepada orang lain melalui media sosial.
Dalam hidup, terkadang kata-kata bijak memiliki cara untuk meresap ke dalam otak dan mengubah hidup seseorang menjadi lebih baik. Kata-kata bijak bermanfaat bagi siapa saja yang ingin mendapatkan inspirasi melalui kata-kata yang sekuat maknanya.
Kutipan yang berdampak ini akan menginspirasi Bunda untuk menggali lebih dalam dan meninggalkan Bunda dengan tujuan dan motivasi untuk lebih semangat menjalani kehidupan demi mencapai tujuan.
Beberapa kutipan inspiratif memainkan peran penting dalam membantu Bunda untuk menyadari potensi yang dimiliki. Hal ini karena kata-kata bijak tersebut dapat memotivasi diri Bunda untuk lebih maju dan lebih baik lagi.
Tak hanya berguna untuk menginspirasi diri sendiri, tetapi Bunda juga bisa menyebarkan kata-kata bijak tersebut kepada seseorang atau menjadikannya caption instagram.
Nah, berikut adalah rangkuman kata-kata bijak dalam bahasa Inggris yang bisa menyentuh hati seseorang yang membacanya. Penasaran apa saja kata-katanya? Yuk, simak berikut ini, ya, Bunda.
50 Kata-kata bijak bahasa Inggris menyentuh hati
Berbagai kutipan dalam bahasa Inggris memiliki makna yang sangat dalam hingga bisa menyentuh hati seseorang yang membacanya. Berikut adalah beberapa kutipan bahasa Inggris yang menyentuh hati, ya, Bunda.
You are perfect because of your imperfections. 
Do what inspires you. Life is too short not to love the job. 
Complaining will not get anything done. 
At the end of your day, you've done your best. Even if you haven't accomplished all that's on your list. You've given it you're all. 
You don't need to have it figured all out. Taking the wrong path is part of the process. 
Never lose yourself because of someone else. You are perfect just the way you are.
Trust your gut. If you ever feel it's not right, then it's not.
A smile is a free way to brighten someone's day. 
Aim for your dreams, but don't lose yourself along the way. Sometimes the road to greatness takes creating your own path. 
Graduation is the end but also the beginning. It's the start of a new chapter written entirely by you. 
The journey to enlightenment doesn't end when you graduate, it is only just beginning. Learning is a lifelong process.
Dreams are ever-evolving. Therefore, the dream you had at the beginning can very well be different than the one you have at the end.
Failure is an option. Because you need to fail to grow. Each failure makes success that much closer.
Celebrate every small success. The path to greatness is a rocky, but enlightened, journey.
Your story is unique. It can only be forged by you.
Graduation was the match that sparked your future. Light the night up with your potential.
The teacher who is indeed wise does not bid you to enter the house of his wisdom but rather leads you to the threshold of your mind.
I do not think much of a man who is not wiser today than he was yesterday.
Good people are good because they've come to wisdom through failure. We get very little wisdom from success, you know.
It is unwise to be too sure of one's own wisdom. It is healthy to be reminded that the strongest might weaken and the wisest might err.
It's not that I'm so smart, it's just that I stay with problems longer.
I am the wisest man alive, for I know one thing, and that is that I know nothing.
A loving heart is the truest wisdom.
It is characteristic of wisdom not to do desperate things.
If you want to be happy, set a goal that commands your thoughts, liberates your energy, and inspires your hopes.
Happiness is a perfume you cannot pour on others without getting a few drops on yourself.
Happiness cannot be traveled to, owned, earned, worn or consumed. Happiness is the spiritual experience of living every minute with love, grace and gratitude. 
Happiness comes when your work and words are of benefit to yourself and others.
Happiness cannot come from without. It must come from within. It is not what we see and touch or that which others do for us which makes us happy; it is that which we think and feel and do, first for the other fellow and then for ourselves.
Everything is a gift of the universe even joy, anger, jealously, frustration, or separateness. Everything is perfect either for our growth or our enjoyment. 
The truest wisdom is a resolute determination. 
Self-Improvement and success go hand in hand. Taking the steps to make yourself a better and more well-rounded individual will prove to be a wise decision. 
The wise person feels the pain of one arrow. The unwise feels the pain of two.
When looking for wise words, the best ones often come from our elders.
You've heard that it's wise to learn from experience, but it is wiser to learn from the experience of others.
We tend to think of great thinkers and innovators as soloists, but the truth is that the greatest innovative thinking doesn't occur in a vacuum. Innovation results from collaboration.
Some of us think holding on makes us strong, but sometimes it is letting go.
But what I've discovered over time is that some of the wisest people I know have also been some of the most broken people.
Don't waste your time with explanations, people only hear what they want to hear.
To make difficult decisions wisely, it helps to have a systematic process for assessing each choice and its consequences-the potential impact on each aspect of your life.
Each of us experiences defeats in life. We can transform defeat into victory if we learn from life's whuppings.
Nothing is impossible, the word itself says 'I'm possible'.
Pain can change you, but that doesn't mean it has to be a bad change. Take that pain and turn it into wisdom.
What you do and say lives on in the hearts and minds of others, to some degree, with a definite result or consequence.
Reading is one of the most important activities, which helps to educate genius and develop creative abilities.
Every generation imagines itself to be more intelligent than the one that went before it, and wiser than the one that comes after it.
If we manage ego wisely, we get the upside it delivers followed by strong returns.
Do not be wise in words be wise in deeds.
A clever person solves a problem. A wise person avoids it.
The simple things are also the most extraordinary things, and only the wise can see them.
Nah, itulah beberapa kata bijak dalam bahasa Inggris yang menyentuh hati beserta artinya. Semoga bermanfaat, ya, Bunda.
(asa)
Share yuk, Bun!